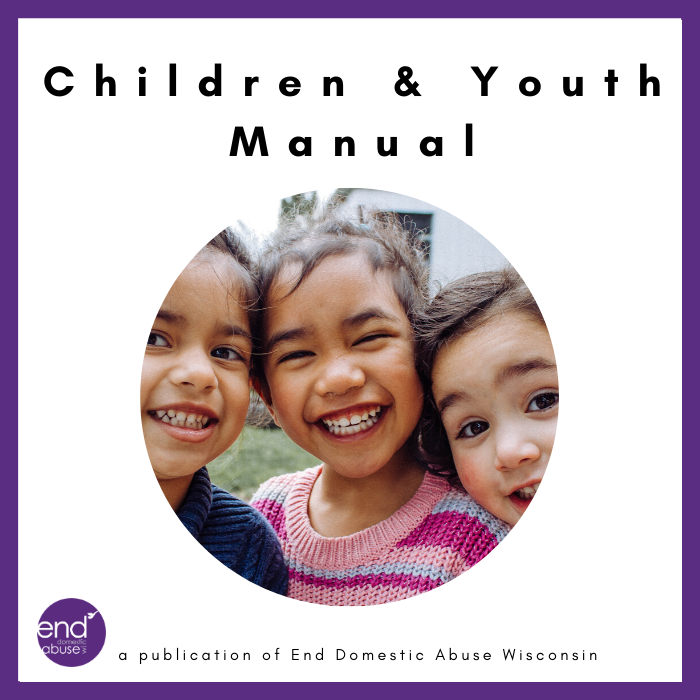 End Abuse's Children & Youth Manual is a tool to increase the knowledge and skills for youth advocacy while building a relationship between advocates and their supervisor. It includes resources to connect with End Abuse and continue education on various topics.
During Teen Dating Violence Awareness and Prevention Month, we're excited to release the second, updated version of the Children & Youth Advocate Manual! We've listed some of the exciting updates below.
Please send questions about the Children & Youth Advocate Manual to Cody Warner, LGBTQ & Youth Program Director, at codyw@endabusewi.org.
Overview of Updates
How to & Hindsights

Example training plan included
How to create a program module section added

Section 1: Child & Youth Development

Youth development charts have been adapted into age range fact sheets
A conception to birth development fact sheet has been created.

Section 2: Childhood Domestic Violence, Sexual Assault, Safety Planning

This section has been updated to include childhood domestic violence, sexual assault, and safety planning
Added example safety plans
Added an information sheet about appropriate amounts of sleep

Section 3: Teen Dating Violence

NEW section added to that was created by teens and advocates working directly with teens!

Section 5: Mandatory Reporting

This is now its own section covering as many details of mandatory reporting as possible
Included information about mandatory reporting in bordering states, protective caregivers reporting incidents to child protective services, and how parenting can be undermined by reporting

Section 7: Children & Youth Resilience

Added information from the Office of Children's Mental Health's Resilience Workgroup

Section 10: Facilitating 1:1 Conversations with Children & Youth

Added information about how to create informed consent

Section 11: Age Appropriate Support Groups

Included information about considerations to go over when starting a support group
Provided an example document to send/bring to schools

Entire CYAM is now offered in one, single document