Youth were rising at the 2019 Teen Summit! It all happened this Sunday through Tuesday in the Wisconsin Dells. Hundreds of teens and their adult mentors from across Wisconsin braved the snow and the cold to do the brave work of being the change—showing us all the path to a brighter, more peaceful future. Summit attendees heard from three inspiring keynote speakers, including our first-ever Teen Keynote address.
On Tuesday, Ajani Carr gave an energizing and powerful talk. Carr is an actor who has appeared on hit shows like NBC's "Chicago P.D." and PBS's "Mercy Street." He has also started his own non-profit organization, called Building Bosses. Building Bosses creates mentorships between young people and local business leaders to help young people start and sustain their own businesses. In fact, youth leadership was present all throughout the Summit. Most of the workshops were youth led, and End Abuse's D2K Youth Outreach Specialists were driving forces behind the Summit. Simone Lewis-Turner helped with the MC duties throughout the event. Cia Siab Vang and her Sisterhood crew staffed the D2K booth to let everyone know how they can be a part of our Dare2Know Teen Dating Violence Prevention Campaign. Cia Siab also did an interview with Spectrum News, telling them why the Summit is so important to her.
'To me it's really healing. It brings me back to my roots,' Vang said. Click on the video below to learn more about what makes the Teen Summit so special.
---
End Abuse's Family Law Study Gets Statewide Attention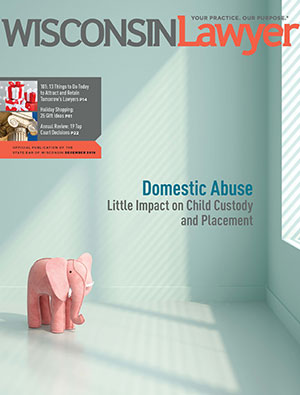 Staff at End Domestic Abuse Wisconsin recently wrote and published an article in Wisconsin Lawyer , the magazine that reaches all 25,000 lawyers admitted to practice law in the state. The article, "
Domestic Abuse: Little Impact on Child Custody and Placement
," provides an overview of findings from End Abuse's systematic research into how the family law system in Wisconsin deals with cases involving serious histories of domestic abuse.
The family law system can be make or break for survivors of domestic violence and their children. To separate from their abusive partners, survivors must participate in custody and placement cases that are confusing, often without representation. Many times they are uncertain how the process will unfold, how decisions will be made, and who will make them. They are told that they need to negotiate or cooperate with the individuals who abused them, or even threatened or attempted to kill them. When survivors receive a final order from the family court, most often they are legally obligated to have ongoing, unprotected contact with the individuals who have been violent to them.
To better understand and measure the extent of these issues, End Domestic Abuse Wisconsin conducted a quantitative research study of family law outcomes for a subset of domestic abuse victims and their children. Our researchers looked at all custody and placement outcomes in a representative sample of counties when one of the parents in a divorce action had a previous domestic abuse conviction against the other parent. Our researchers found that, even when there is a previous documented history of abuse, courts rarely note that abuse or attend to safety when creating custody and placement orders. In fact, of the cases studied, joint custody – shared by victims and perpetrators – was the most common order, and most placement orders lacked any mechanisms for protecting the victim or child.
The research and article have generated productive dialogue between End Abuse, other victim advocates, and family law system stakeholders. Legislators and other policymakers have reached out to us to seek our input on possible reform measures. While the results of the study and the content of the article are disheartening, we are hopeful that our efforts will spur meaningful changes for survivors and their children.
---
Next Week, Join Us!
THE BIG SHARE is one of our most fun fundraising campaigns of the year! You can be part of the generosity, the excitement, and the change on March 5th, from midnight to 11:59 PM.
We would love your help to make our campaign a huge success. You can:
Give now or March 5.
Share your passion for ending abuse by spreading the word about the BIG SHARE to your networks on social media and through email.
Become a fundraising champion. Everyone loves a champion, including us! We really need fundraising champions to help drive people to our fundraising page on March 5th. Email our Director of Development to learn more.
---
This month, the Wisconsin Supreme Court heard oral arguments in Yasmeen Daniel v. Armslist, LLC. For this important case, End Abuse helped author and organize an amicus brief, signed by over 40 local, state and national victim advocacy organizations. In the brief, End Abuse made clear the the court's decision could have life-and-death consequences for victims of domestic abuse.
The case stems from a lawsuit filed by The Brady Center to Prevent Gun Violence on behalf of Yasmeen Daniel against Armslist.com, the company that facilitated an illegal gun sale which led to the death of Daniel's mother during the Azana Spa Shooting in 2012. Armslist wants the Wisconsin Supreme Court to overturn an appellate court decision that gives Daniel the opportunity to prove Armslist acts negligently when it refuses to prevent illegal gun sales on its site. End Abuse urged the Supreme Court to uphold the decision because Armslist.com is designed to allow buyers to acquire weapons without a background check. They also say the outcome of the case is significant for the safety of victims.
In a statement to the media, Patti Seger, executive director of End Abuse, said, "If the Supreme Court overturns the lower court decision to find that Armslist is immune from suit, domestic abusers will continue to have easy – and deadly – access to firearms. Family and intimate assaults with firearms are twelve times more likely to result in death than non-firearm assaults, and victims of domestic violence are five times more likely to be killed if their abuser owns a firearm. The Azana Spa shooting of 2012, the murder of Sarah Schmidt in Calumet County, and other similar cases show that sites like Armslist.com must be held accountable for exploiting online loopholes to allow illegal arms sales."
The case has garnered national attention because Armslist is notoriously a source for illegal gun sales across the country, and commentators believe the Wisconsin Supreme Court decision will influence whether or not Armslist continues its problematic business model.
---
Your generosity makes our work possible. Thank you!