How We End Abuse
For the second year in a row, Director of Policy and Systems Change Diara Parker and Technology Coordinator Patrick Christ have taken Facebook Live viewers on a tour of our office during the BIG SHARE . Along the way, they asked staff members how they work to end abuse. If you didn't catch the video, you can watch it it here: Part 1 and Part 2 .
---
Legislative Advocacy Day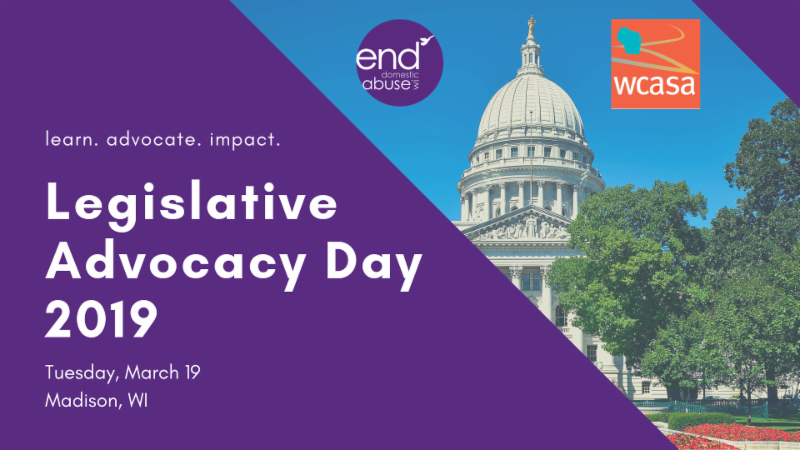 This month, advocates and survivors from across Wisconsin made the trip to the state's Capitol. Their goal: to raise their voices and share their stories so that decision makers in Madison understand that the experiences of survivors should inform the laws and policies of our state. Legislative Advocacy is a biennial event, organized in partnership with our sister organization, 
the Wisconsin Coalition Against Sexual Assault (WCASA)
 .
This year's event featured an especially significant speech by State Representative Jodi Emerson (Eau Claire). Jodi shared that, immediately prior to running for office, she was working as an advocate for victims — just like many of the attendees in the audience. Specifically, Jodi worked at 
Fierce Freedom
 , a non-profit advocacy organization that seeks to address human trafficking. As an advocate, Jodi became actively involved in the effort to pass safe harbor legislation, which would protect minor survivors of human trafficking from being prosecuted with prostitution crimes. In the course of meeting with legislators and becoming a stronger public policy advocate, colleagues and elected officials encouraged Jodi to run for the State Assembly herself.
Rep. Emerson's personal story illustrates how powerful the voices of advocates and survivors are. What they have to share — the real-world stories of individuals who have been profoundly affected by domestic and sexual violence — must not be an afterthought to how laws are written or which services are funded. Domestic and sexual violence change the lives of literally millions of Wisconsinites, and, therefore, these issues must be central to how laws and polices are created.
End Abuse thanks the many advocates and survivors who participated in Legislative Advocacy Day. By lending their voices, they have contributed to making our state stronger.
---
Strategic Planning with WI Communities
End Domestic Abuse Wisconsin is a key resource to communities in our state who want to be strategic in how they work to eliminate abuse in their local areas. Earlier this month, Diara Parker, Director of Policy and Systems Change at End Abuse, led the first part of a multi-session strategic planning process with the Washington County Coordinated Community Response (CCR) Team. 
CCR teams
 bring together key players in community systems, usually on a county-wide basis, to develop practices and procedures aimed at strengthening a community's response to domestic violence and sexual assault.
During their time with Diara, the Washington County CCR created a practical vision for creating a more safe, inclusive community for survivors of domestic violence in Washington County. Diara had the following reflection on her first session with the Washington County team:
"The innovative ideas and energy this CCR team brought to our time together was inspiring and exciting! During their April team meeting, we'll dig deeper into some of the barriers they may experience as they work toward making Washington County a safer, more inclusive community for survivors, and I'm excited to dive in!"
---
April is Sexual Assault Awareness Month
As we move into April, we encourage all of our readers to connect with the 
Wisconsin Coalition Against Sexual Assault
 to learn what actions they can take to support survivors and prevent sexual violence. The theme for 2019 is "I Ask." The theme's simplicity makes clear how simple yet deeply important consent is to our everyday interactions.
On April 6, WCASA will host a "Survivors and Allies Day of Healing," which will be followed by their annual "Wrap Around the Capitol" event. Check out WCASA's 
events page
 for more information on these and other awareness month happenings. April is also an excellent time to start following WCASA 
on Facebook
 .
---
Your generosity makes our work possible. Thank you!