June is Pride Month
When your relationship goes unrecognized, is stigmatized, or is the object of hatred and bigotry, the process of safely leaving an abusive relationship is all the more complex.
When your gender identity is questioned, ignored, or actively denied, coming forward to heal from gender-based violence is a perilous journey.
This year marks the 50th Pride, the first stemming from the Stonewall riots in 1969. From marriage equality to transgender identity no longer being considered a mental health disorder by the World Health Organization, the LGBTQ equality movement has made great strides. However, intimate partner violence, sexual assault, and hook up violence continue to increase. Surveys show that LGBTQ survivors would rather go to an LGBTQ-specific agency than to a mainstream domestic violence program, even if the LGBTQ agency is not focused on domestic violence.
Cody Warner, End Abuse LGBTQ & Youth Program Director, says that agencies should expand their understanding of the types of violence LGBTQ community members face.
"To support those affected, it is very important to note that advocacy needs to go beyond intimate partner violence and sexual assault to also include hook up violence and hate violence that happens within the LGBTQ community," said Warner. "With an increase in use of hookup and dating apps, advocacy needs to evolve with the technology to better meet the needs of the community. We also must have the language to talk openly and without judgement about their experiences and without stigmatizing the circumstance around their experience. With an additional increase in hate violence towards the community over the past few years, it is vital that advocates recognize how this kind of violence affects the community and supports systems that further isolate and prevent LGBTQ individuals to try and seek services."
This Pride Month, we celebrate LGBTQ survivors' courage and strength, and we give appreciation to the many advocates who have worked to promote accessible and affirming services for LGTBQ survivors.
Diverse and Resilient
In particular, we express our gratitude to our partners at Diverse and Resilient for their Room to Be Safe Program, which connects survivors of all violence to services, advocacy, and safety planning for LGBTQ communities in Wisconsin. Diverse and Resilient also runs the LGBTQ Room to Be Safe Violence Response Resource Line at (414) 856-LGBT (5428). Although this is not a crisis line, advocates will connect survivors with inclusive programs in their area.
Through our partnership with Diverse and Resilient, the Wisconsin Department of Children and Families, and the statewide LGBTQ IPV Committee, End Abuse has co-produced an LGBTQ Webinar Series. The series provides local programs with the opportunity to reflect on organizational practices and culture, and to build bridges between existing knowledge and skills and innovative, emerging practices — all to better serve LGTBQ survivors and communities.
In addition, Diverse and Resilient is a partner in End Abuse's Statewide Prevention Initiative. Through this initiative, Diverse and Resilient is working to create "a culture that nurtures LGBTQ youth by promoting loving, resilient, and diverse experiences of LGBTQ communities to foster self-love and acceptance."
As part of the project, Diverse and Resilient worked with Lex Allen, a Milwaukee music artist, to create a public awareness campaign and accompanying song called, "Colors in Bloom." If you haven't heard it yet, June is the perfect month to get this positive and and affirming song stuck in your head! Listen to Colors in Bloom here!
---
Homicide Response Plan
The tragic reality of domestic abuse is that domestic violence homicides are a relatively common occurrence in Wisconsin.
A life is taken because of domestic violence, on average, about once per week. 
Each life is immeasurable, irreducible to a statistic or a news article. The loss of individual lives affects advocates and communities deeply.
To help local domestic violence programs, their communities, and surviving family members respond to, heal from, and move forward from homicides, End Domestic Abuse Wisconsin has updated and released its Domestic Violence Homicide Response Plan: A Toolkit for Domestic Violence Programs. The document provides a framework for local programs to develop a plan for how they will respond to a homicide in their community. It addresses immediate and longer-term needs of advocates, family members, and communities after a domestic violence homicide. It also contains a guide to collaborating to create a community-wide response before it is needed.
"In the time immediately following a domestic violence-related homicide, domestic violence programs often do not have time to comb through websites to find what would be relevant and helpful in that moment," said Sara Krall, End Abuse's Homicide Prevention Program Director. "The Homicide Response Plan provides programs with one place to look for comprehensive suggestions, strategies, and resources to help guide their response to these complex incidents."
As advocates, we believe domestic violence homicides cannot only be tragic ends. They must also be moments to redouble the effort to interrupt cycles of violence and to make communities safer.
End Abuse thanks the many local advocates and other experts who contributed to the original version of the response plan, as well as the group that recently came together for the update.
---
Juneteenth Celebration in Milwaukee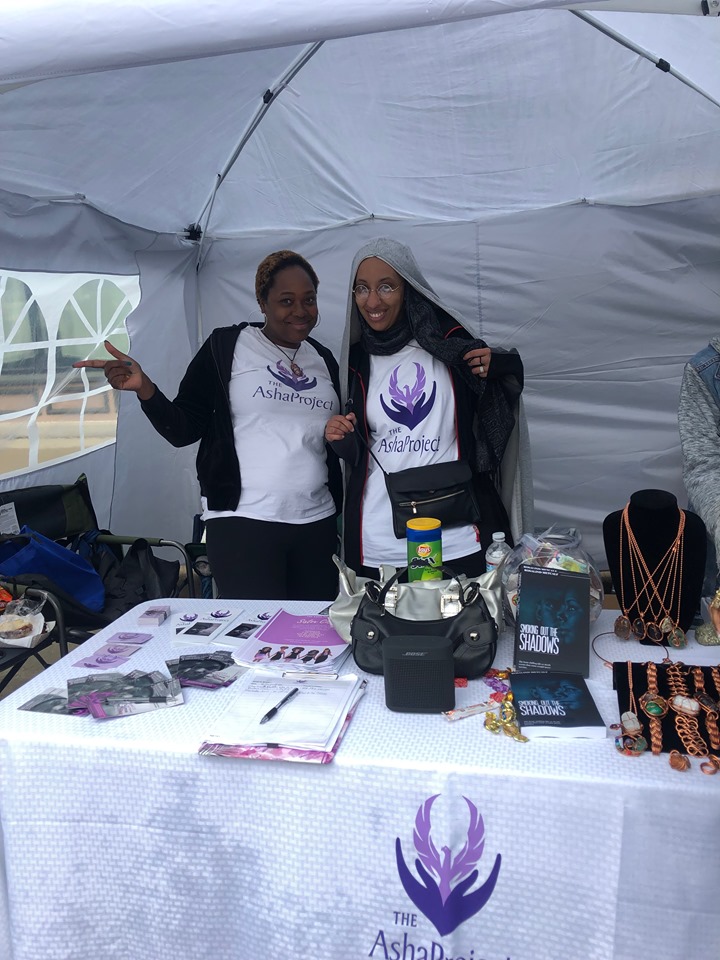 Left, Cody and Angie repping Dare2Know. Right, Tia and Crystal from the Asha Project.
Angie Trudell Vasquez, End Domestic Abuse Wisconsin Operations Manager, offered this reflection after attending the Juneteenth Festival in Milwaukee with staff members of the Asha Project:
Juneteenth in Milwaukee for me was a celebration of cultural pride. I could feel the joy among the people who stopped by our booths, who engaged our staff, and who were truly interested in what we had to offer. The Asha staff handed out reproductive health supplies, and talked about their programming with such grace and ease. It was beautiful to see them at work in the community. The Dare2Know campaign drew people into our booth. You could see people thinking, "Dare to Know what?" and they would come over to our table. I was about to talk about our entire organization and let people know the full breadth of our work. I could recruit people to apply for our jobs and to take advantage of our trainings.
Walking up and down the festival with Asha Director Antonia Vann was thrilling. She knew everyone and they all knew her, and we could not move three feet without engaging some new person she wanted me to meet. The food, the music, and the spontaneous dancing in the street reminded me that we do need to take the time to celebrate what is good in life among all that is difficult.
The history of Juneteenth is wrapped up in the awful history of our country, but in practice Juneteenth reminds us we are resilient people and freedom is worth fighting for and is a worthy cause. I went because I wanted to support our staff in their work, and because I enjoy talking to people. Tabling has always been a good time for me. I was proud to represent End Abuse and to have the ability to witness our staff in action, and to spend time with our Asha staff. I learn so much from them when I get to visit. I will make it a habit to go to Juneteenth annually now. Plus, I really do love Milwaukee.
---
---
World Elder Abuse Awareness Day
In conjunction with World Elder Abuse Awareness Day or "WEAAD" (June 15), the National Clearinghouse on Abuse in Later Life (NCALL) and Terra Nova Films pre-released "Lifting Up the Voices of Older Survivors," a video project funded by the Office for Victims of Crime. NCALL is seeking feedback on the videos from the field before finalizing them. In these short films, older survivors tell of their abuse and exploitation while demonstrating their strength and resiliency. The draft videos and discussion guides explore the impact of elder abuse on older adults and their families as well as effective interventions.
We are proud of the leadership NCALL takes on nationally to promote awareness of elder abuse, on WEAAD and every day! For more information go to: www.ncall.us.
---
Your generosity makes our work possible. Thank you!